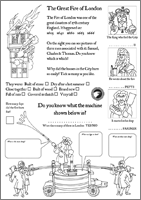 Activity Sheets
Learning Fun for Everyone
One Free Sample of your choice available upon request or buy
10 pages of STUART BRITAIN ACTIVITY SHEETS for £2.50
HOW IT WORKS
You choose the set of sheets you want by looking at the thumbnails & descriptions below
You click on the relevant 'buy now' button below
You fill in your credit/debit card or PayPal account details
We e-mail you pdf files of the sheets, usually within a single day
You open the files using the free Acrobat Reader and print them off
Available Stuart Britain Sheets
General Stuarts


Gunpowder Plot Story Sheet

This sheet shows a cartoon strip telling the story of the Gunpowder Plot. The speech bubbles, however, are blank and you must fill in what the characters are saying. You could also cut up the six pictures prior to presenting them to those doing the activity and ask them to put them in the correct order.

Not available as a free sample.



Gunpowder Plot General Sheet

Test your knowledge and learn more about the Gunpowder Plot in this multi-activity sheet with maths, blanks and multiple choice..



Gunpowder Plotters Sheet

This logic problem sheet shows the gunpowder plotters as sketched by you, a Jacobean spy. Use the notes to work out which plotter is which.



Civil War Introductory Sheet

This multi-activity sheet, for use after learning about Civil War basics, asks questions about the two sides and their leaders. Do a bit of maths and check out the battle sites on a map.



Plague Doctor Sheet

Answers questions about Dr. Bird and his outfit, then work out which house in the London street he needs to visit. He's got an eye for detail, but can't remember the house number.



Great Fire of London Sheet

In this multi-activity sheet, work out things about characters associated with the Fire, why and when it happened. Then look at the strange machine and label it up.



Great Fire of London Spot the Difference Sheet

Here are two pictures of the Great Fire of London, with the Earl of Craven directing the fire fighting efforts; but one is slightly different from the other. Can you spot the twelve changes?



Letter to Samuel Pepys Sheet

This sheet suggests a scenario from after the Great Fire of London and asks you to write a letter to Samuel Pepys.



Fire of London Finger Puppets Sheet

Make six of your very own finger puppets of characters from the Great Fire of London with this easy-to-use cut-out sheet.



Restoration Costume Sheet

This sheet shows pictures of two people from the reign of King Charles II: A man and a woman. You are asked to describe how they look different from how we dress today. Were they rich or poor?
If you let us know what school you're at (if you're a teacher) or what county/state you're in (for others), you can request a single free sample by mailing nashfordpublishing@googlemail.com . Please remember to let us know which one you'd like (but note that some sheets are excluded from this offer).
We have a wide range of British history activity sheets for kids available. They are very competitively priced and contain many more illustrations than other sheets on the market: all exclusive to Nash Ford Publishing. You can purchase them very cheaply in sets organised by subject. All sheets are shown and described above. Some are quick, some are longer and take more thought or involve making things. Most are single pages, but some are more. Some can be used straight off. Others are designed to be used after a little learning, which our Early British Kingdoms website can help with of course. All of them double as colouring sheets and will keep your pupils or children amused for hours. For activity sheets from other periods of British history, click here.