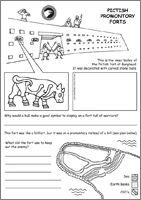 Activity Sheets
Learning Fun for Everyone
One Free Sample of your choice available upon request or buy
12 pages of PICTISH ACTIVITY SHEETS for £2.50
HOW IT WORKS
You choose the set of sheets you want by looking at the thumbnails & descriptions below
You click on the relevant 'buy now' button below
You fill in your credit/debit card or PayPal account details
We e-mail you pdf files of the sheets, usually within a single day
You open the files using the free Acrobat Reader and print them off
General Picts


Archaeology Sheet

This sheet describes a number of different fields and asks you to choose which ones you think would be most likely to have interesting archaeology hidden underground. It then asks you to decide which materials you would be most likely to dig up. Lastly you can draw the grass in on a cross-section to show how tall it grows over different features, forming lines seen on aerial photos.



Pictish Costume Sheet

This sheet shows the costumes of a tattooed Pictish man and lady. You are asked to compare them to where you live and what people wear today.



Pictish Finger Puppets Sheet

Make six of your very own Pictish warrior finger puppets with this easy-to-use cut-out sheet.



Naked Pictish Warrior Sheet

This sheet shows a naked Pictish warrior, as described in Roman sources; but why would soldiers not get dressed to go into battle? Use the suggestions of areas to think about and fill in the advantages and disadvantages.



Dark Age Venn Diagram Sheet

This sheet shows twelve different people from the Dark Ages. By looking at their costumes and weaponry, you must work out which person goes in which section of the triple-circle venn diagram on the next page. You can write their names onto the existing diagram or create a giant one, cut out the pictures and stick them on.

Not available as a free sample.



Draw the Buried Treasure Sheet

Several Pictish hoards of treasure have been found in Britain. Use this sheet to draw in your own dream treasure from this time. Then have a think about why someone might have hidden it back then.



Houses Sheet

This sheet shows two ancient houses: one Pictish and one Saxon. You are asked what differences you can see between the two.



Pictish V. Viking Houses Sheet

This sheet shows a two ancient houses: one Viking and one Pictish. You are asked what differences you can see between the two. Same as Houses in Scotland Sheet.



Promontory Forts Sheet

This sheet is all about Pictish promontory forts, especially the one at Burghead. Can you say what made it a good site for a fort? Can you draw the famous Burghead Bull?



Pictish Food Sheet

This sheet shows pictures of lots of food items. You must identify which ones were eaten by the Picts in the Dark Ages. Same as the Anglo-Saxon & British Food Sheets.


Pictish Symbol Stones Sheet

This sheet shows nine symbols from Pictish Symbol Stones, as well as a tattooed Pict carving one of the stones. You are asked if you can work out what each symbol shows.
If you let us know what school you're at (if you're a teacher) or what county/state you're in (for others), you can request a single free sample by mailing nashfordpublishing@googlemail.com . Please remember to let us know which one you'd like (but note that some sheets are excluded from this offer).
We have a wide range of British history activity sheets for kids available. They are very competitively priced and contain many more illustrations than other sheets on the market: all exclusive to Nash Ford Publishing. You can purchase them very cheaply in sets organised by subject. All sheets are shown and described above. Some are quick, some are longer and take more thought or involve making things. Most are single pages, but some are more. Some can be used straight off. Others are designed to be used after a little learning, which our Early British Kingdoms website can help with of course. All of them double as colouring sheets and will keep your pupils or children amused for hours. For activity sheets from other periods of British history, click here.